Hair Restoration Treatment
Now Accepting New Patients | Over 19 Years of Experience | Licensed and Certified
Call Now
Platelet Rich Plasma Hair Treatment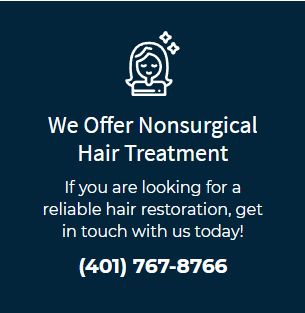 Treat hair loss with Dr. Linda Young's nonsurgical hair restoration treatment. Give your hair growth a boost with the help of our advanced procedures. Turn to us for quality hair restoration treatments in the North Smithfield, RI area.
Selphyl® Platelet-Rich Fibrin Matrix (PRFM)
The Selphyl® System is designed for the safe and rapid preparation of Platelet-rich Fibrin Matrix (PRFM) from a small sample of blood at the patient point of care. Many PRP systems require operator skill, have varying results and have extensive contamination with red blood cells and white blood cells. Selphyl® removes virtually all contaminating cells and is independent of operator technique. PRP is converted to PRFM through a controlled process, creating a scaffold that serves to protect and preserve platelets. Think of Selphyl® PRFM as the next generation PRP.
Our Hair Restoration Treatment Includes
- Platelet rich plasma (PRP) - Nonsurgical treatment
About Selphyl® PRFM
Selphyl® PRFM is utilized by physicians in their practices for various applications. The process is simple and the entire procedure takes approximately 30 minutes. While it may be possible to achieve your desired results after just one treatment, additional treatments are generally recommended. Your doctor will determine the best approach for you individually.
The Power of Platelets
Platelets and other components in human blood migrate to a site of injury. Platelets are known to release a variety of growth factors that respond to tissue injury, where they initiate and promote healing. By concentrating platelets at the site of injury, physicians have the potential to enhance the body's natural capacity for healing.